First sorry for my bad english skills
Idea Nr.
1)
hmm ok first , the art manager is great but its lack of comfort.
we need to add an whole folder nut just the asset files one by one......... i buy an assets pack on an store and now i must add over 400 assets one by one
2)
the shadow option for landmasses,
a)pls add an drop shadow that has an option to select from where the light is shining
b) the drop and inner shadow need an option to make them from smooth to specific shades like the coast-shore.
Add this to Trees,mountains and cliffs would be nice
3)
when you paint landmasses free hand, and select the creation, you should add an shoreline effect after it so it has almost your shape you had make but looks natural on the outlines
4)
The outline need between an colour, size and opacity and style like the road-tool
5)
For grids you have snap to Center for assets, but there are assets that have an 256x384 box diameter because the mountains are so high that they are hide the asset in the background (hex assets) so when the snap in Center they are always placed wrong.
snap to the bottom would be nice for all kind of grids.
the assets i use looks like this: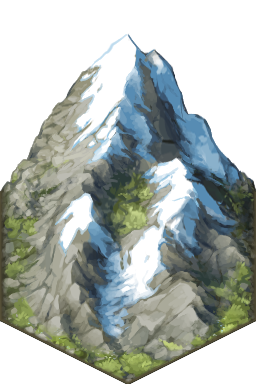 6)
We can now colour Assets in different colour, but what we also need is an Gradient effect over the assets with max 5 colors ( as an example you can make an mountain that is white on the top "snow" light gray than dark grey than brown "dirt" and at last green "grass"
7)
an asset cutter you have an picture of an tree on grass-field but you only want the tree so you can cut it out with an tool and make an new asset out of the tree in the same process and program.
8)
an brush tool (i know its hard to make) that can light colour up or make them darker.
you can do this on individual assets or as an overlay on the whole map.
9)
for the future you need generators for generic structure like assets.
like Water,Clouds,everything that is in the "map decor". specially the things in map decor is something you see very unique in style and look
nearly no one want to use the same over and over but also find it hard to make new styles.